Multitasking – Â I have talked about that numerous times before. It just seems to be a recurrent thing in my life, albeit not always a successful one.
فقط في اليوم الآخر ، ركض على ساعة ونصف من النوم ، حاولت أن أقوم بتغذية القط وإعداد فطور أبنائي في نفس الوقت.
Well… let's just put it that way: My son would eat about anything I serve him, the cat is much more picky.
Good thing I served the cat first and could quickly switch bowls before my son excitedly dug into his surprisingly meaty muesli…
لذا ، مرة أخرى ، أتعهد بأن أضع المهام المتعددة على منتجات العناية بالبشرة الخاصة بي ، واختار الإصدارات التي تجمع بين العديد من المكونات المفيدة في وقت واحد. مثل المصل Caudalie Vinopure Blemish السيطرة على التسريب.
ما يدعي Caudalie
This concentrated shot of natural salicylic acid, grape-seed polyphenols and organic essential oils* works to visibly reduce blemishes, tighten pores and refine the skin texture. The gel-like formula glides onto the skin to leave it feeing purified whilst organic rose water controls sebum levels and promotes a healthy shine-free glow.
Its lightweight gel texture is quickly absorbed, leaving skin refreshed and balanced.
A 100% natural scent derived from the essential oils complex that delivers a breath of freshness with each application
حقائق
الجائزة والحجم
One bottle (see through mint green plastic, comes with a pump in the full size) contains 40 ml and retails for 30,20 € on the website هنا or on Feelunique هنا.
الملمس والرائحة
Just like the toner there is no added fragrance, so the scent is brought to you by the essential oils. Herbal, green, not my favorite. The serum itself is very lightweight and skinks in quickly, probably due to the alcohol content.
التطبيق والآثار
I used the whole Caudalie Vinopure set, so it is hard to tell you which product had the most impact on my skin. Out of the three though the Caudalie Vinopure Infusion Serum was by far my favorite.
It worked well with my other products, didn't feel irritating or drying and the combination of salicylic acid and niacinamide surely played an important role in clearing up my skin.
مكونات
مكونات مواتية

روزا دمشسينا فلاور واتر: العطر ، مضاد للأكسدة ، مضادات الميكروبات

نياكيناميدي

: فيتامين ب 3 ، يحارب الجذور الحرة ، ويقاوم فرط التصبغ ، يحفز إنتاج الكولاجين ويحمي حاجز البشرة

Butylene Glycol

: مرطب

Salicylic Acid

: BHA, great exfoliant for acneic and oily skin, exfoliates inside the pores

Sodium Hyaluronate

: Hydrating, smaller form of hyaluronic acid with deeper penetration

Cymbopogon Citratus (عشب الليمون) النفط

: من الضروري النفط ، adstringent

Lavandula Hybrida Oil

: من الضروري النفط ، ومضادات الأكسدة ، المطريات

Melissa Officinalis Leaf Oil

:Â Anti-oxidant rich, anti-inflammatory

Peppermint Oil

: Controls sebum production

زيت زهرة Pelargonium Graveolens

: موازنة إنتاج الزهم ، ارتفعت ميميكس رائحة بينما يجري أرخص

Rosmarinus Officinalis (Rosemary) Leaf Oil

:Â antiseptic, invigorating

Palmitoyl استخراج بذور العنب

: مضاد للأكسدة ، ويساعد في فرط تصبغ

فيتامين E (توكوفيرول)

: مضادات الأكسدة ، ويقلل فرط تصبغ ويحسن مرونة الجلد

Â
مكونات أخرى

Sodium Hydroxide

: pH adjuster, can be irritating

Phytate الصوديوم

: عامل خالب

Xanthan Gum

: Improves viscosity
Unfavorable Ingredients

كحول

: potentially drying

Citral/Citronellol/Geraniol/Limonene/Linalool

: part of the essential oils, potentially irritating
Essentials oils, which could be a red flag when your skin is sensitive, alcohol that some people try to avoid but other than that a nice blend of antiseptic, sebum controlling ingredients to go with the salicylic acid and the niacinamide. A powerhouse for tackling congested skin and post inflammatory hyperpigmentation, I´d say.
هل ترقى لمطالبتها؟
نعم فعلا.
It helps control sebum, refine the skins texture and contains salicylic acid while being weightless and gel like.
هل يمكنني إعادة الشراء؟
نعم فعلا.
There are a few salicylic acid serums out there, but this is the only one I have tried so far that has the added benefit of niacinamide, an ingredient I love to have in my routine.
من أنا أوصي به؟
Acne prone skin, especially oily or combination oily. Unlike the Caudalie Vinopure Purifying Toner I reviewed here I would say this is more targeted at aging skin and adult acne.
If you suffer from post inflammatory hyperpigmentation, this is also very beneficial.
Those with sensitive skin should proceed with caution – it contains a few potentially irritating ingredients.
Oh, and the ingredients are 98% natural origin and 10% organic.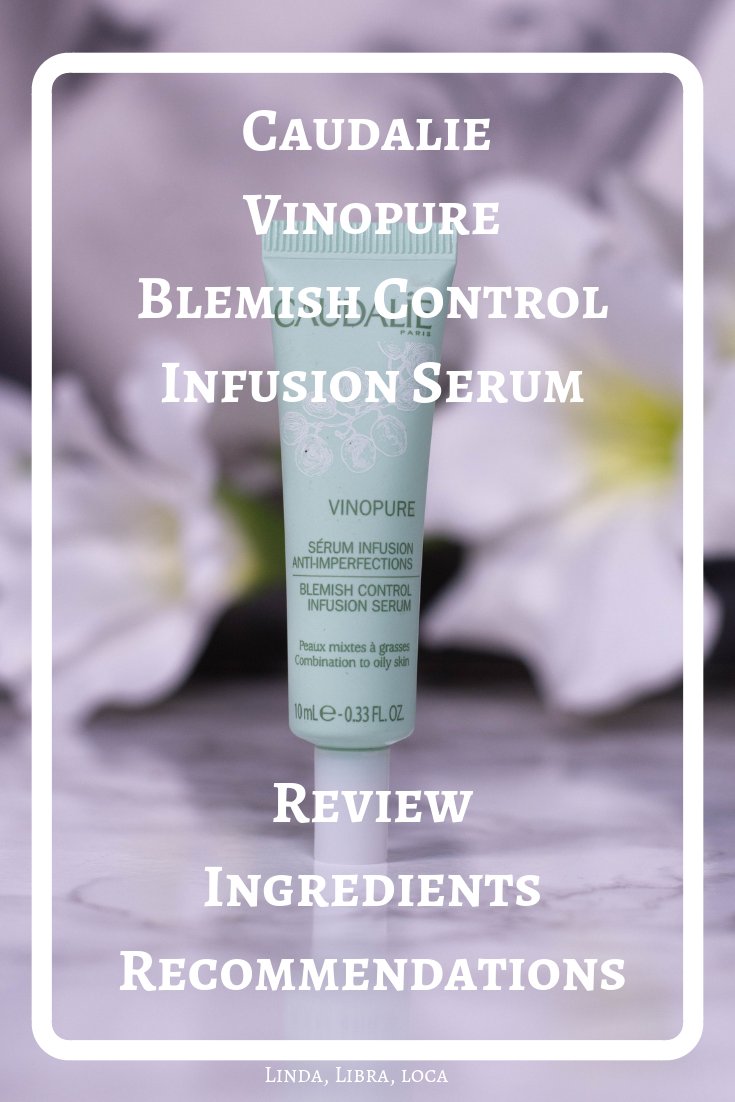 (Visited 99 times, 4 visits today)