Ovaj blog objavljuje affiliate linkove. Molimo pročitajte odricanje od odgovornosti.
Why can't I for the life of me type Caudalie? I mean, I have written the name how often over the last three months, six times?
And that is six times in blog post titles only, I don't even want to count how often the term Caudalie appeared in the corresponding text and social media shares.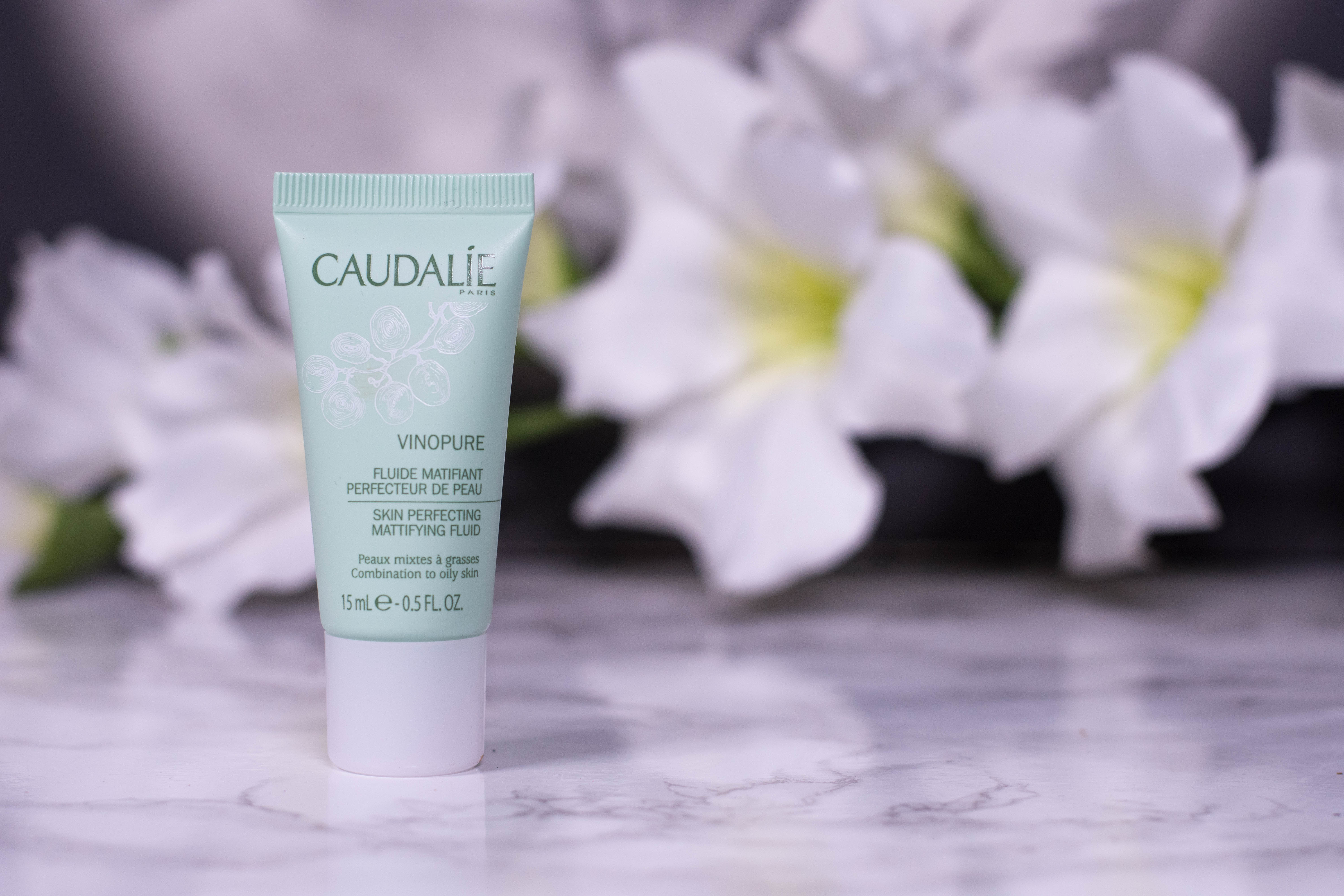 And yet I keep writing Caudlaie, which to my eye somehow looks right (don't even try to pronounce it though).
Zašto sam tako često napisao? Nisam opsednut brendom, iako priznajem da imaju neke dragulje. To je uglavnom zbog toga što sam prvi put pretresao moje majke za krv svoje proizvode, a potom otkrio trojicu Caudalie Vinopure u cilju zagušenja sklona i masne kože.
Sada kada sam testirao svoj put kroz sva tri proizvoda (pročitajte prvi deo ovde i drugi deo ovde), vrijeme je da završim seriju mojim mislima na Caudalie Vinopure Skin Perfecting Mattifying Fluid, čineći broj do sedam.
Ono što kaudali tvrdi
Matifikirajući hidratantni hidratant koji zamenjuje ulje i mrvice dok se bavi postojećim brazama.
Obogaćena organskom ružičastom vodom, polifenolima grožđa i organskim eteričnim uljima *, ovaj matifying hidratantni ovlaživač apsorbuje višak sebuma, pomaže u smanjivanju nedostataka i poboljšava teksturu kože. Kompleks nekomedogenih esencijalnih ulja obezbeđuje antiseptičke prednosti za smirenje kože i čiste ga, dok čisti pore ulja, mrvica i bakterija. Rosewater poboljšava vaš ukupni sjaj, uz obezbeđivanje dugotrajne hidracije, bez sjaja. Koža se odmah matira sa uklonjenim mrtvim kožnim ćelijama, ostavljajući tijekom jasan i svjež, sa sveobuhvatnom teksturom.
Njegova svetlost i osvežavajuća tekstura koja uključuje prirodna praška silica odmah donosi udobnost i matiranu završnu obradu kože.
100% prirodni miris izveden iz kompleksa esencijalnih ulja koji pruža svježu i iznenađujućem dah svježine sa svakom primjenom.
Činjenice
Nagrada i veličina
Jedna epruveta sadrži 40 ml i prodavnicu za 39 $ na sajtu ovde or for 25,20 € ovde.
Tekstura i miris
Lightweight, fresh, a fluid through and through, the Caudalie Vinopure Skin Perfecting Mattifying Fluid shares the same green scent all Vinopure products own. I have said it before: I really don't like it, but I appreciate the fact they did not add any additional fragrance.
Primjena i efekti
The fluid absorbs easily, feels fresh and cool on the skin and while it doesn't do anything in terms of mattifying, it doesn't leave my skin greasy either. My skin just looks as it would without product, but feels hydrated.
Jedina slabost koju sam imala jeste da sam iskusio dosta nagomilavanja kada ga koristim u režimu obično za kožu. Dobro je radila sa tonerom i serumom iz iste linije, ali u drugom sam dodao još jedan korak koji sam mogao skinuti ljuspice s lica.
Sastojci
Povoljni sastojci

Rosa Damascena Cvjetna voda: miris, antioksidant, antimikrobna

Glicerin

: Humectant

Dicaprylyl Carbonate: Emollient
Coco-Caprylate / Caprate:Â Emollient
Butilen glikol:Humectant, vraća vlagu na kožu
Niacinamide: Vitamin B3, bori se slobodnim radikalima, bori se hiper pigmentacijom, stimuliše proizvodnju kolagena i štiti barijere kože
Palmitoyl ekstrakt semena grožđa: antioksidant, pomaže u hiperpigmentaciji
Vitamin E (tokoferol): Antioxidant, smanjuje hiperpigmentaciju i poboljšava elastičnost kože
Cymbopogon Citratus (Lemongrass) ulje: Eterično ulje, udubljenje

Lavandula Hybrida ulje

: Esencijalno ulje, antioksidanti, emolijent
Melissa Officinalis Leaf Oil: Anti-oxidant bogat, protivpožarni
Mentha Piperita Oil: Umirujuće
Pelargonium Graveolens cvjetno ulje: Balansiranje proizvodnje sebuma, miris ruže mirisa dok je jeftinije
Ružmarinovo lišće ulje: antiseptik, oživljavajući
Ostali sastojci

Silica: Mineralno, poboljšava teksturu

C 14-22 alkohola

: Stabilizator emulzije
Poliakrilatni polipropilen-6: Emulgiranje

C 12-20 Alkil Glukozid

: Surfaktant / emulgiranje
Limunska kiselina:Â AHA/pH adjuster
Sodium Phytate: Sredstvo za keliranje
Nepovoljni sastojci

Alkohol

: Može se sušiti

Citral / Citronellol / Gerani

ol / Linalool / Limonen

: deo eteričnih ulja, potencijalno iritantan
Prilično sličan ostalim proizvodima, ovo je mješavina eteričnih ulja namijenjenih da budu antiseptični i adstringentni. Dodati niacinamid i vitamin E tretiraju post-inflamatornu hiperpigmentaciju koja muči mnoge od nas, dok su dodatni emolijenti i humectants nude laganu hidrataciju za masnu kožu.
Da li živi do svojih tvrdnji?
Da.
Well, I don't see the mattifying effect on my skin, but to be fair the claims there are a little contradictory anyway. How is it supposed to be mattifying while at the same time enhancing overall glow?
Da li bih otkupio?
Br.
Jednostavno ne mogu da radim sa mojim uobičajenim režimom, a moja zrela koža treba više od trojice koja je Caudalie Vinopure Set. Što je sramota jer samo sudeći prema listi sastojaka, to je lijep hidratant za kombinovanu masnu kožu.
Kome ja to preporučujem?
Ako imate masnu ili kombinovanu kožu, pate od post-inflamatorne hiperpigmentacije, ovo je lijep hidratant. Samo se uverite da se dobro igra sa vašim drugim proizvodima pre nego što dobijete punu veličinu.
(Visited 95 times, 3 visits today)