Multitasking – Â I have talked about that numerous times before. It just seems to be a recurrent thing in my life, albeit not always a successful one.
Erst vor ein paar Tagen, als ich 1,5 Stunden geschlafen hatte, versuchte ich, die Katze zu multitasking zu machen und gleichzeitig mein Sohn-Frühstück vorzubereiten.
Well… let's just put it that way: My son would eat about anything I serve him, the cat is much more picky.
Good thing I served the cat first and could quickly switch bowls before my son excitedly dug into his surprisingly meaty muesli…
Also, noch einmal, ich schwöre, das Multitasking zu meinen Hautpflegeprodukten zu verlassen, sich für Versionen zu entscheiden, die mehrere nützliche Zutaten auf einmal kombinieren. Wie das Caudalie Vinopure Blemish Control Infusionsserum.
Was Caudalie behauptet
This concentrated shot of natural salicylic acid, grape-seed polyphenols and organic essential oils* works to visibly reduce blemishes, tighten pores and refine the skin texture. The gel-like formula glides onto the skin to leave it feeing purified whilst organic rose water controls sebum levels and promotes a healthy shine-free glow.
Its lightweight gel texture is quickly absorbed, leaving skin refreshed and balanced.
A 100% natural scent derived from the essential oils complex that delivers a breath of freshness with each application
Fakten
Preis und Größe
One bottle (see through mint green plastic, comes with a pump in the full size) contains 40 ml and retails for 30,20 € on the website Hier or on Feelunique Hier.
Textur und Geruch
Just like the toner there is no added fragrance, so the scent is brought to you by the essential oils. Herbal, green, not my favorite. The serum itself is very lightweight and skinks in quickly, probably due to the alcohol content.
Anwendung und Effekte
I used the whole Caudalie Vinopure set, so it is hard to tell you which product had the most impact on my skin. Out of the three though the Caudalie Vinopure Infusion Serum was by far my favorite.
It worked well with my other products, didn't feel irritating or drying and the combination of salicylic acid and niacinamide surely played an important role in clearing up my skin.
Zutaten
Günstige Zutaten

Rosa Damascena Blumenwasser: Duft, Antioxidationsmittel, antimikrobiell

Niacinamid

: Vitamin B3 bekämpft freie Radikale, bekämpft Hyperpigmentierung, stimuliert die Kollagenproduktion und schützt die Hautbarriere

Butylene Glycol

: Feuchthaltemittel

Salicylsäure

: BHA, großes Peeling für Akne und fettige Haut, Peelings in den Poren

Natrium-Hyaluronat

: Hydratisierende, kleinere Form der Hyaluronsäure mit tieferer Penetration

Cymbopogon Citratus (Zitronengras) Öl

: Ätherisches Öl, adstringierend

Lavandula Hybrida Öl

: Ätherisches Öl, Antioxidantien, Weichmacher

Melissa Officinalis Blattöl

:Â Anti-oxidant rich, anti-inflammatory

Peppermint Oil

: Kontrolliert die Talgproduktion

Pelargonium Graveolens Blumenöl

: Balancing Talgproduktion, imitiert Rosenduft

Rosmarinus Officinalis (Rosemary) Leaf Oil

:Â antiseptic, invigorating

Palmitoyl Traubenkernextrakt

: Antioxidans, hilft bei Hyperpigmentierung

Vitamin E (Tocopherol)

: Antioxidant, reduziert Hyperpigmentierung und verbessert die Elastizität der Haut

Â
Andere Zutaten

Sodium Hydroxide

: pH adjuster, can be irritating

Natrium Phytat

: Chelatbildner

Xanthan-Gummi

: Verbessert die Viskosität
Ungünstige Zutaten

Alkohol

: potentially drying

Citral/Citronellol/Geraniol/Limonene/Linalool

: part of the essential oils, potentially irritating
Essentials oils, which could be a red flag when your skin is sensitive, alcohol that some people try to avoid but other than that a nice blend of antiseptic, sebum controlling ingredients to go with the salicylic acid and the niacinamide. A powerhouse for tackling congested skin and post inflammatory hyperpigmentation, I´d say.
Erfüllt es seine Ansprüche?
Ja.
It helps control sebum, refine the skins texture and contains salicylic acid while being weightless and gel like.
Würde ich es wieder kaufen?
Ja.
There are a few salicylic acid serums out there, but this is the only one I have tried so far that has the added benefit of niacinamide, an ingredient I love to have in my routine.
Wem empfehle ich es?
Acne prone skin, especially oily or combination oily. Unlike the Caudalie Vinopure Purifying Toner I reviewed here I would say this is more targeted at aging skin and adult acne.
If you suffer from post inflammatory hyperpigmentation, this is also very beneficial.
Those with sensitive skin should proceed with caution – it contains a few potentially irritating ingredients.
Oh, and the ingredients are 98% natural origin and 10% organic.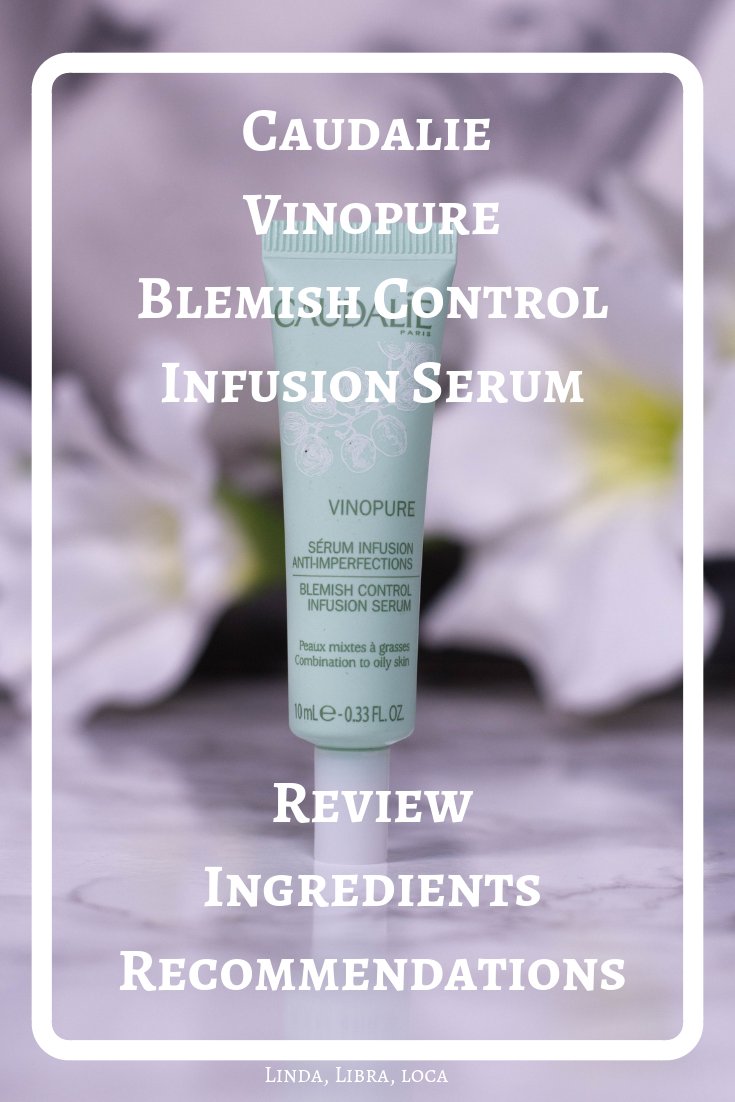 (Visited 94 times, 1 visits today)