Yes, I know it is summer. Hot days, bronzed skin, effortless makeup. And yet, admist a flurry of posts singing praises for dewiness and light coverage, here I am. Ready to talk about a flat matte, full coverage foundation. In fact, about THE matte full coverage foundation – Estée Lauder Double Wear.
Why? I can hear you cry out! Why suffocate my feed with thoughts about heavy coverage? Why plant pictures of my base melting off my face into my mind?
Well, it is easy, dear reader. Because I can. And because it has been almost a year now that I started using the Estée Lauder Double Wear, I have gone full circle, experienced all the seasons. I am ready. And completely off trend, once again.
You will understand that this video is not at all a first impressions one. It is more an opportunity for you to see the foundation applied and worn throughout the day, because pictures do sometimes say more than words.
The Claims
Proven 24-hour staying power.
The same long-wear makeup you love, now proven to last even longer. Looks flawless and natural.
Feels lightweight and so comfortable, you won't believe it's super long wear.
Won't change color, smudge or come off on clothes.
Lasts through heat and humidity.
The packaging
I am not going to beat around the bush, not going to tell you about the luxurious feeling of the frosted glass bottle, not going to tell you about the golden details or the nice font used for writing. I am going to state the obvious first: It has no pump. And I have no clue how in this time and age companies can still! sell their foundation without a pump.
The application
Out of the three widely accepted way of applying foundation (fingers, brushes, beauty blender – no balls on this list!), I tend to use a brush. The foundation is too heavy to be easily applied with the fingers and a beauty blender (or the equivalent damp sponge of your choice) gives you a lighter coverage and a more natural finish. Nothing wrong with that, I just want to keep the foundation as it is: matte and full coverage.
The finish
Matte. Not natural, not satin. Matte. Now before you shake your head and turn away though, hear me out: My skin is oily in the t-zone, and without repeatedly powdering throughout the day any foundation I have tried so far is going to surrender and give way to shine. And while I don't mind a soft sheen on my cheekbones, I will never accept a shiny nose.
The Coverage
This is as full as I have ever come across in a foundation. I could easily wear this one without bothering to correct or conceal, which of course means that, when wearing it, you need to do the contour highlight and blush trilogy to avoid looking like a flat painting of a face.
The Feeling
Reading through my description so far you would probably expect a suffocating layer, but that isn´t the case. No, this is not a weightless foundation. I can feel it on my skin from the minute I apply it to the moment I take it off. But not in an uncomfortable way, I just feel that it is there.
The Weartime
Eleven hours with minimal fading is the longest I have gone, but no matter if I exercised, had studio lights flaring at me for filming or rested my chin in my hand for a whole workday (typical office pose), the foundation did not budge. With one exception: If my skin was dehydrated, it would sink into my pores within hours.
The Skintypes
This is a foundation for oily skin. Normal or combination skin types will be able to wear it, depending on the primer used. But people with dry skin will most likely not get along with this one, as it clings to dry patches you didn't even know existed.
The Final Verdict
Reading back, it doesn't seem like it, but I don't want to be without that foundation. It is my go to base for filming, as it photographs beautifully, and I reach for it for a night out because I know no matter how sweaty things are going to get, this makeup will stay put. Would I wear it everyday to the office? No, I prefer a more natural base on a day to day basis. But for filming this is the base every other one will be measured against.
One bottle of the Estée Lauder Double Wear Foundation is 1.0 oz and retails for 39,50 $ on the website here.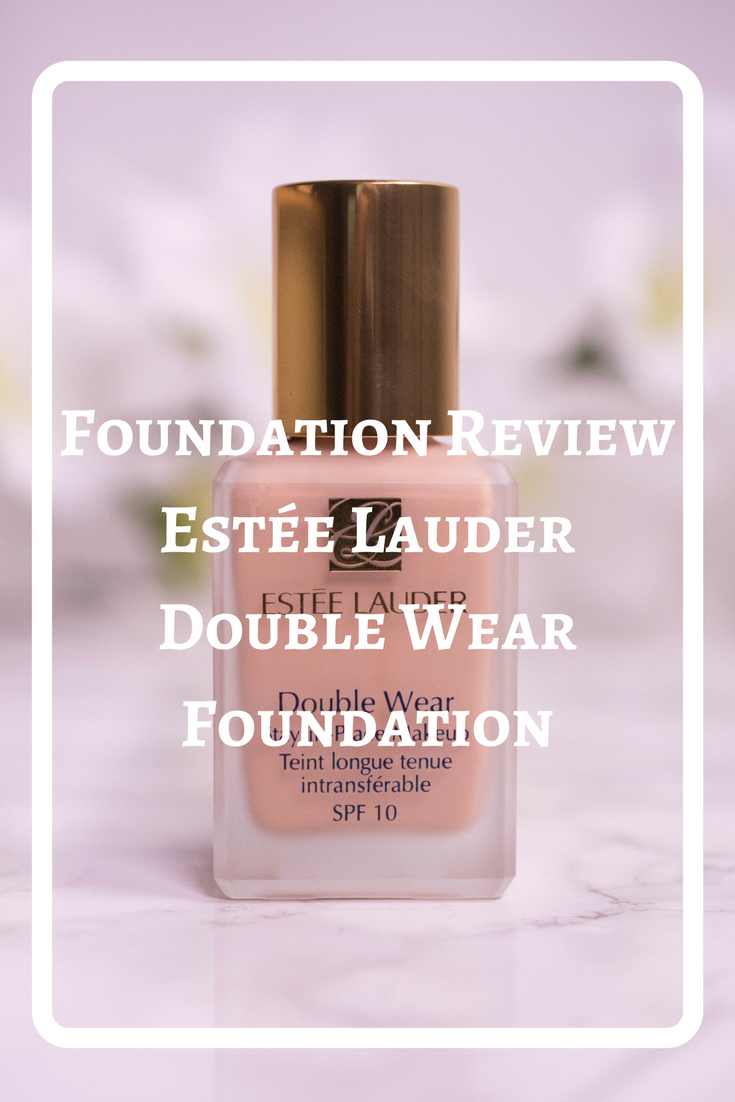 MerkenMerken
MerkenMerken
MerkenMerken
(Visited 448 times, 1 visits today)