Dette blogginnlegget bruker tilknyttede lenker. Vennligst les ansvarsfraskrivelsen.
Why can't I for the life of me type Caudalie? I mean, I have written the name how often over the last three months, six times?
And that is six times in blog post titles only, I don't even want to count how often the term Caudalie appeared in the corresponding text and social media shares.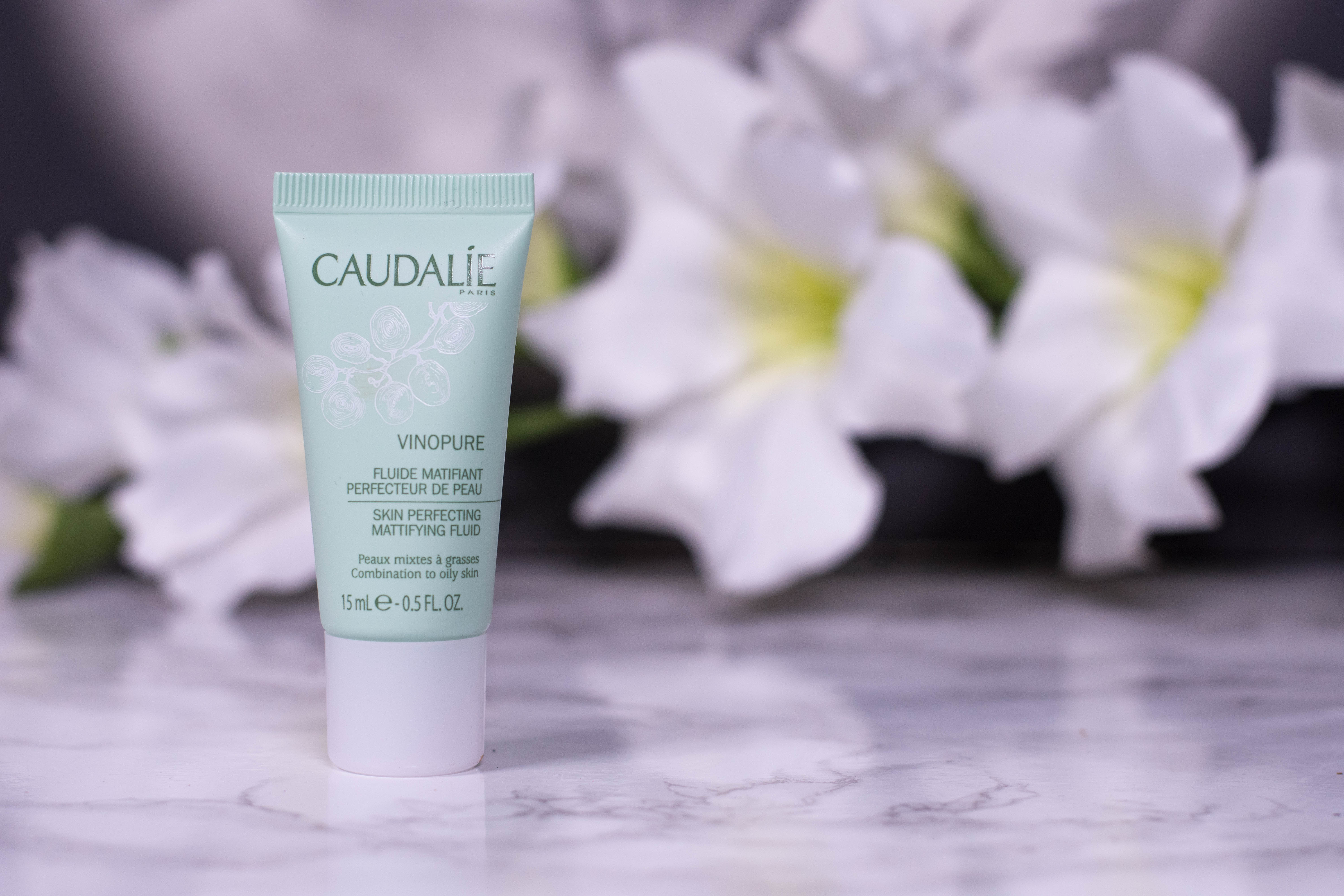 And yet I keep writing Caudlaie, which to my eye somehow looks right (don't even try to pronounce it though).
Hvorfor har jeg skrevet det så ofte? Det er ikke at jeg er besatt av merkevaren, selv om jeg innrømmer at de har noen perler. Det er for det meste fordi jeg først raidte mødrene mine for sine produkter og så oppdaget Caudalie Vinopure-trioen med sikte på overbelastning, utsatt og fet hud.
Nå som jeg har testet vei gjennom alle tre produktene (les del ett her og del to her), det er på tide å avslutte serien med tankene mine på Caudalie Vinopure Skin Perfection Mattifying Fluid, som gir tellingen opptil syv.
What Caudalie claims
A mattifying yet hydrating moisturizer that traps oil and blackheads while addressing existing blemishes.
Enriched with organic rosewater, grape polyphenols and organic essential oils*, this mattifying yet hydrating moisturizer absorbs excess sebum, helps to reduce imperfections and refines skin texture. The complex of noncomedogenic essential oils provide antiseptic benefits to calm the skin and keep it clear, while cleansing pores of oil, blackheads, and bacteria. Rosewater enhances your overall glow, while providing long term hydration, without shine. The skin is immediately mattified with dead skin cells removed, leaving the complexion clear and fresh with an overall smoothed texture.
Its light and refreshing texture which includes natural sillica powders immediately brings comfort and a mattified finish to the skin.
The 100% natural scent derived from the essential oils complex that delivers a light and surprising breath of freshness with each application.
Facts
Prize and size
One tube contains 40 ml and retails for 39 $ on the website her or for 25,20 € her.
Texture and smell
Lightweight, fresh, a fluid through and through, the Caudalie Vinopure Skin Perfecting Mattifying Fluid shares the same green scent all Vinopure products own. I have said it before: I really don't like it, but I appreciate the fact they did not add any additional fragrance.
Application and effects
The fluid absorbs easily, feels fresh and cool on the skin and while it doesn't do anything in terms of mattifying, it doesn't leave my skin greasy either. My skin just looks as it would without product, but feels hydrated.
The only downside I had was that I experienced a lot of piling when using it among my usually skincare regime. It worked well with toner and serum from the same line, but the second I added another step I could rub the flakes off my face.
Ingredients
Favorable ingredients

Rosa Damascena Flower Water: fragrance, antioxidant, antimicrobial

Glycerin

: Humectant

Dicaprylyl Carbonate: Emollient
Coco-Caprylate/Caprate:Â Emollient
Butylene Glycol:Humectant, draws moisture to the skin
Niacinamide: Vitamin B3, fights free radicals, combats hyper pigmentation, stimulates collagen production and protects skins barrier
Palmitoyl Grape Seed Extract: antioxidant, helps with hyperpigmentation
Vitamin E (Tocopherol): Antioxidant, reduces hyperpigmentation and improves skins elasticity
Cymbopogon Citratus (Lemongrass) Oil: Essential Oil, adstringent

Lavandula Hybrida Oil

: Essential Oil, antioxidants, emollient
Melissa Officinalis Leaf Oil: Anti-oxidant rich, anti-inflammatory
Mentha Piperita Oil: Soothing
Pelargonium Graveolens Flower Oil: Balancing sebum production, mimicks rose scent while being cheaper
Rosemary leaf oil: antiseptic, invigorating
Other ingredients

Silica: Mineral, texture enhancing

C 14-22 alcohols

: Emulsion stabilizer
Polyacrylate Crosspolymer-6: Emulsifying

C 12-20 Alkyl Glucoside

: Surfactant/emulsifying
Citric Acid:Â AHA/pH adjuster
Sodium Phytate: Chelating agent
Unfavorable ingredients

Alcohol

: Can be drying

Citral/Citronellol/Gerani

ol/Linalool/Limonene

: part of essential oils, potentially irritating
Pretty similar to the other products this is a blend of essential oils meant to be antiseptic and astringent. The added Niacinamide and Vitamin E treat the post-inflammatory hyperpigmentation that bothers many of us while the added emollients and humectants provide lightweight hydration for oily skin.
Lever det opp til sine krav?
Ja.
Well, I don't see the mattifying effect on my skin, but to be fair the claims there are a little contradictory anyway. How is it supposed to be mattifying while at the same time enhancing overall glow?
Would I repurchase?
Nei.
I just cant get it to work with my usual regime and my more mature skin needs more than just the trinity that is the Caudalie Vinopure Set. Which is a shame because just judging by the ingredient list it is a lovely moisturizer for combination oily skin.
Hvem anbefaler jeg det til?
If you have oily or combination skin, suffer from post inflammatory hyperpigmentation, this is a lovely moisturizer. Just make sure it plays well with your other products before getting the full size.
(Visited 95 times, 3 visits today)