This blog post may contain affiliate links. Please read disclaimer.
Whenever I set my foot on french soil, there are three things on my to do list:
Eat, visit Sephora and enter a pharmacy to buy a six month supply of La Roche Posay Serozinc.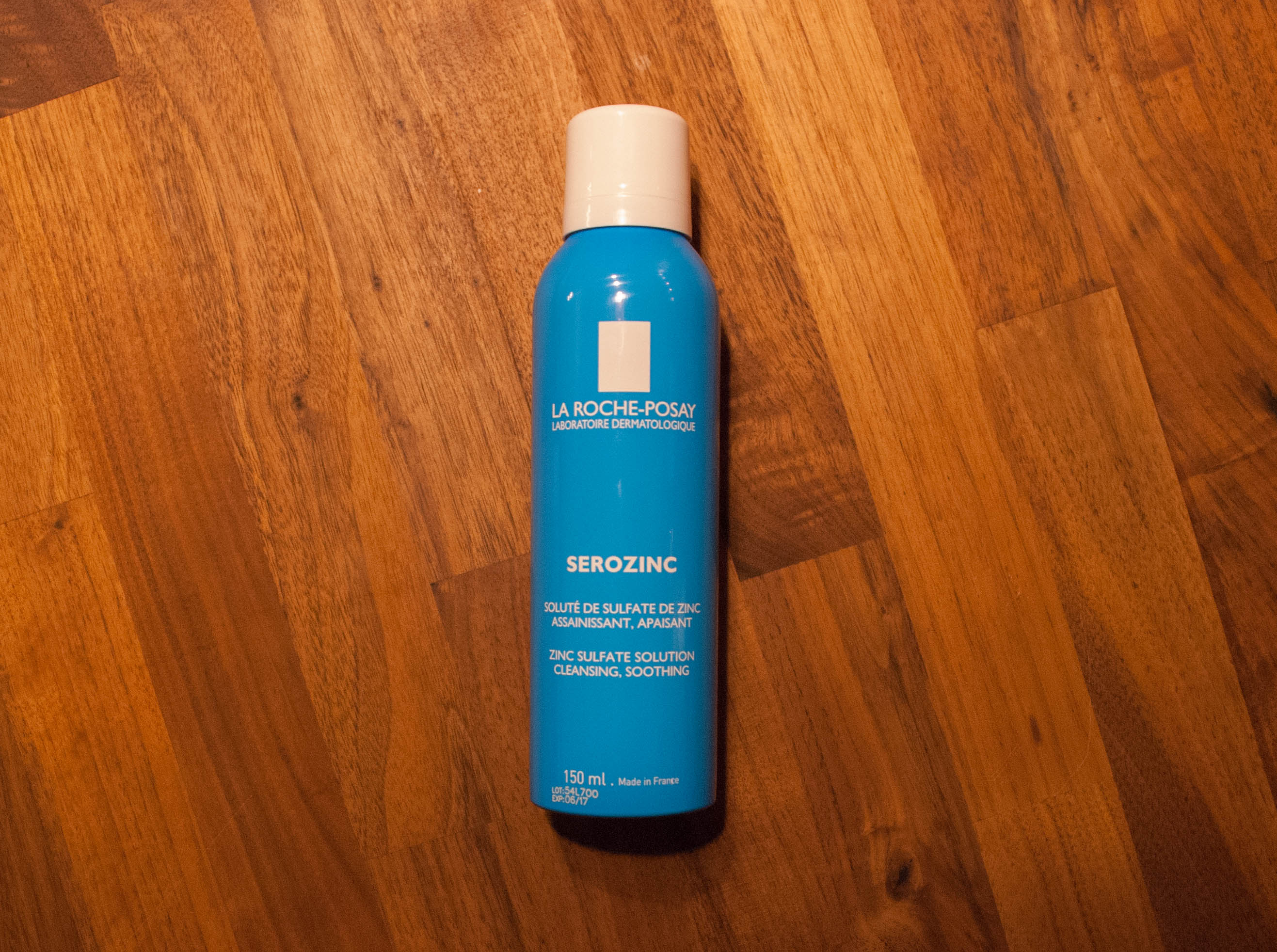 If you read at least one Beauty Blog, I am sure you already have heard the praise.
Everyone keeps talking about this annoyingly hard to get toner, a miracle in a blue spray can.
Is it worth the hype?
Well, after reading my introduction, you may already have guessed how I feel about it, but let´s start with the facts.
The sleek blue container (I am a sucker for La Roche Posays packaging) contains 150 ml. For reference, I spray it once a day and my bottle will last me up to four months.
It is 11,95 € on Lookfantastic 
here
 and there are also different ebay-sellers that ship outside of France.
I have no experience with either of them, as I am lucky enough to have my parents spending approximately half of the year in Southern France, keeping me well supplied.
Ingredients
The ingredient list is short: Aqua (no need to comment this one, I suppose), Sodium Chloride (plain table salt, slightly drying) and Zinc Sulfate. Zinc sulfate is the active ingredient, known to combat acne, improve skin healing (Zinc deficiency leads to wound healing disorder after surgery) and soothe redness.
As I have written over and over again, I have aging, acne-prone skin with redness and hyper pigmentation. Some of the things I use can leave my skin feeling a little upset, leading to red patches preferably round my nose. A quick spritz of Serozinc calms the redness down, whether it may have occurred due to the products or due to a giant throbbing zit.
Zinc Sulfate is used as an antiseptic agent in medical products, so I am a believer in its ability to fight acne.
Has it lived up to its claims?
Yes, regarding the soothing effect.
As far as the antiseptic effects go, it is hard to tell exactly which product helps most with acne or zits, but I notice my skin worsen if I stop using it for some time. So yes, it does live up to its claims.
Will I repurchase?
Yes, I will and have at least three times.
Who is it suitable for?
People with acne.
People with redness.
People who follow Caroline Hirons.
The only exception I would make are people with extremely dry skin. Zinc Sulfate and Sodium Chloride both are slightly drying, which usually is no issue, but if your skin is really, really (talk Sahara) dry, it probably isn't for you.
On a side note, it states it can be used on nappy rash. I am sure it can be, but I prefer to use a zinc-based cream for that. Not because I think it wouldn't work, but because I feel it would be a waste of money…
MerkenMerken
(Visited 200 times, 1 visits today)